What Is The Best Garden Incinerator?
Best Garden Incinerator
A garden incinerator is a very handy thing to own. They allow you to deal with your garden waste at your leisure, quickly and efficiently, without having to wait for the bin men to collect.
In this article, you will find everything you need to know about using a garden incinerator bin. From how to set up your incinerator for its first use to what you can do with the ashes will be explained. When finished with this article you will have a better understanding of incinerator bin use and safety, as well as a few tips to help you along the way.
This article also features and reviews 5 types of garden incinerators. You will find a list of pros and cons for each to help you determine which is the best garden incinerator for you.
What is a Garden Incinerator?
A garden incinerator is a simple and efficient tool to help you to get rid of your garden rubbish. It is simply a kiln with ventilation holes in the lower section to provide for airflow. They are often on footings and come equipped with a lid that has a flu-like top that is used for both safety and generating heat within the incinerator.
Most garden incinerators are made with galvanized-steel to keep them from rusting. They come with legs, usually three, that keep the base of the incinerator from touching the ground. This allows for better airflow and reduces the risk of destroying your grass from the hot metal.
Often, they come equipped with handles on the sides of the bin. These handles make emptying, cleaning, and storing the bin easier. Some come with a handle on the top of the lid as well, and some lids have a chimney in their center which allows for greater airflow as well.
Garden incinerators are an excellent means of removing rubbish from your garden but not everything can be burnt, due to environmental and safety reasons. So, what can you burn, and what should you avoid putting in your incinerator?
What is OK to Burn, and What to Avoid
While there are no actual garden incinerator laws, there is the Environmental Protection Act 1990. This act states that it is an offense to cause a statutory nuisance, and emitting bad smells or noxious fumes from burning the wrong things can get you a fine of up to £5000!
Garden incinerators were designed to burn garden waste. This includes hedge cuttings, leaves, grass cuttings. The waste from your gardening, even large tree branches, can be safely incinerated.
Just because something is wood, don't assume it is safe to incinerate. You should avoid burning certain types of wood, such as wood from furniture. This can have varnishing or other chemical treatments that can cause noxious odors to be emitted when burned.
It's also best not to incinerate food items in your bin, as they can emit unpleasant odors and leave a difficult mess to clean out of your bin. Burning cardboard and plastic containers should also be avoided. They can release noxious fumes as well, something that could potentially be an offense of the Environmental Act 1990.
Where to Place Your Bin
It is important to choose a location that provides clear and safe access for you while working. Be sure there is no debris, structures, or other flammable material that could be affected by burning embers. Choose an area that will not be disturbed by any smoke the incinerator may generate.
Many people in the UK live in a smoke control area, where burning is allowed for authorized fuel or when using an exempt fuel-burning appliance. The rule, however, applies if the smoke is released through the chimney of a building. It does not apply to garden incinerator bins, so you are free to use them in smoke control areas.
What Time Can You Use a Garden Incinerator?
An important thing to keep in mind is the considerations of your neighbors. If they have windows open or are drying washing outside, its best not to start a fire. You don't want the smell of what you are burning to fill their home, or any smoke to disturb them.
How to Use Your Garden Incinerator
Before you can get your fire going, you need to acquire a list of items:
Long Matches or a long-nosed lighter
Newspaper
Small dry twigs
Heat resistant gloves
Garden waste (branches, clippings, etc.)
Now that you have what you need, you can follow these guidelines to get the most out of your incinerator.
The first step is to get your incinerator bin assembled. Usually, this is simply a matter of fitting the legs to the bin part. Instructions for assembly are often included with the new bin.
Secondly, you need to build and light the fire inside the bin.
Remove the lid
Place a piece of scrunched up newspaper at the bottom of the bin
Lay some twigs over the newspaper
Light the newspaper and twigs. You can use a long-nosed lighter, a long match, or light the end of a rolled-up newspaper and insert it into one of the lower airflow holes in the bin.
Once the fire is lit, place the cover on the bin and let the fire intensify.
Now you are ready to burn your garden waste. Be sure to wear gloves when feeding the incinerator, and do not overfeed. If you add too much material you can smother the fire. Be sure to replace the lid after feeding the fire, to allow the heat to rise.
When finished incinerating your garden rubbish, wait until the bin is sufficiently cool before you clean. Make sure the fire is completely out, remove the lid to allow the temperature to lower, then remove the waste.
Things to Remember:
Choose a safe location away from neighbors to set up your incinerator.
Be sure there is nothing above, below, or adjacent to the incinerator that can catch on fire.
Be extremely careful to avoid touching it too quickly after use. Let it thoroughly cool down before attempting to remove the lid and any remaining contents or using cover protection against the weather.
If you are using an incinerator that has no mat underneath, be sure to place something to catch the embers, or at least be sure the ground is clear of any combustible material.
Make sure you wear proper gloves to keep from injury.
After the bin is sufficiently cleaned store it in a dry area. This will keep it from rusting and prolong the life of your garden incinerator.
A good tip is to place a few bricks in the bottom of the bin and rest barbecue grating over them so that air can circulate better. This will also help with cleaning the bin.
Use caution during windy days! Use the lid to keep the flames from spreading.
Are Garden Incinerators Safe?
Incinerator bins are designed specifically to make personal disposal of garden debris safer. Rather than having an open bonfire that is susceptible to wind, the kiln design of a garden incinerator keeps the fire contained.
Anytime you are using fire there is a risk. But if you follow a few simple guidelines you can rest at ease knowing you're using your incinerator properly and safely:
Place your incinerator in an area with nothing above, below, or to the sides that could catch fire.
Be sure your incinerator is placed on solid, level ground.
Keep your incinerator downwind from neighbors, to avoid disruption from smoke and possible fumes.
Use heat -resistant gloves whenever you are using your incinerator.
Wait until your incinerator is completely cool before attempting to move it.
Do not overfill your incinerator
Keep water close in case you need to quickly put the fire out
If you overfill your incinerator, flames will shoot from the top and you will not be able to place the lid on safely. If you do accidentally overfill your garden incinerator, do not attempt to remove any of the burning material. Rather, wait until the flames die down and put the lid on.
How Can You Reduce Smoke?
One issue that you may have with burning your garden rubbish in your yard is the smoke it generates. This can be irritating to your neighbors and can make it difficult for you to comfortable burn your debris. So, what can you do?
One way is to be sure to get an incinerator with a lid. This will help you control the amount of smoke that is emitted from your incinerator.
Do not burn wet material. Burning wet material will produce a lot of smoke.
Try to position your incinerator downwind from neighbors. If you are unable to reduce the amount of smoke you are generating sufficiently, do your best to at least keep it from bothering your neighbors.
Do not use your incinerator indoors. Not only is this a serious safety risk, but the smoke produced will cloud small areas quickly.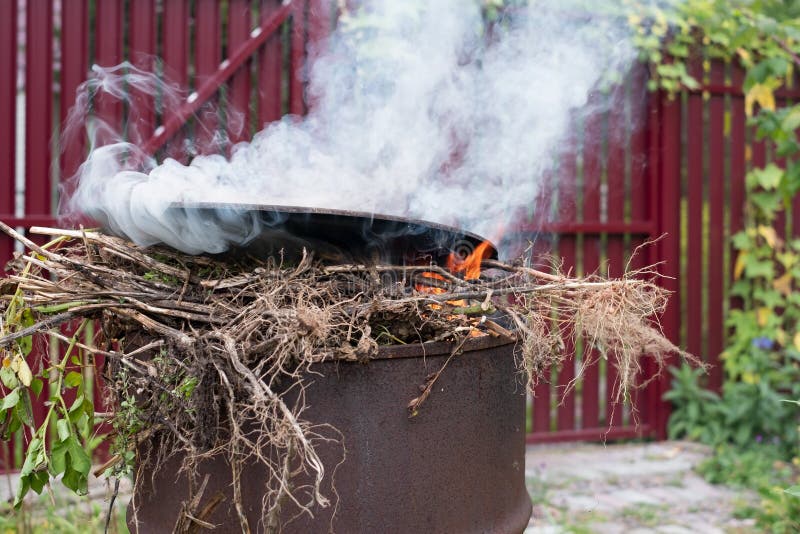 What Can You Do with the Ashes?
One way to repurpose your ashes is to use them as fertilizer. Ashes from garden debris tend to be high in potassium, which is good for woody plants. It also helps to keep slugs and snails out of your garden.
Another good idea is to use the ashes from your incinerator bin on your compost bin. Wood materials tend to be alkaline, and when sprinkled over your compost will aid fertility. Just be sure to use a small amount at a time, because too much will offset the bacterial ecosystem that the compost needs.
It's best to keep the ashes in a dry, sealable container and sprinkle them over the compost every so often.
What Makes a Garden Incinerator Advantageous?
When you burn your garden waste in the open, you run the risk of embers traveling and setting other, smaller fires. You also have the smoke shifting in the wind, which can disturb both you and your neighbors.
With a garden incinerator, you avoid the threat of wind causing your fires to become unruly. The fires are safely contained, and the ashes are neatly gathered at the bottom of the incinerator so there is a minimal mess.
Garden incinerators are also storable, so when you are finished using yours you can tuck it away, freeing up space in your garden.
Below is a list of 5 garden incinerators that are available on the market today.  They all have their unique designs and specifications, and therefore their unique advantages and disadvantages, depending on your needs.
Some of the most common characteristics to consider when rating garden incinerators include:
The size of the incinerator
Construction and materials
Ability to incinerate/generate heat
Ease of use/cleaning
You will also need to know what type of job you require your incinerator to do, and in what space are you able to use it. Some things to consider before selecting your new incinerator:
How much debris do you normally handle?
Where are you going to be using it the most?
Where will you be storing it?
Where can you dispose of ash?
While most garden incinerators are similar in design, there are differences. Some may have vented lids, some may have handles, and some may allow for better airflow than their competitors. It is up to you to determine what will be most beneficial to you.
Once you have an understanding of what features will best suit your needs, you should be ready to find the right incinerator for you.
Best Garden Incinerators
1
Simpa 90 Litre Incinerator Bin 
If you're looking for an incinerator with the capacity to clear a large amount of garden waste while still offering you portability, this garden incinerator may be for you.
Made with galvanized steel, this incinerator is designed to give you long-lasting durability and performance. With the lid on the heat generated inside will incinerate your rubbish in no time at all, and the added poker helps to keep your hands safe while you stir the bin's burning contents.
The lid has a centre flue and ventilation holes to let in oxygen, allowing for greater combustion.
When finished burning and cooled, the incinerator's side handles allow for easy transportation.
PROS:

Large rubbish capacity
Comes with ash poker
Easy assembly
Durable galvanized steel construction
UK made
Good value for the money

CONS:

Feet are made of thin metal
Slightly imbalanced
With features such as a durable galvanized steel body, portability, and excellent heat generation, this large 90 litre incinerator is an overall great choice.
2
Gardman Large Metal Galvanized Dustbin Composter
This is a larger-sized incinerator, perfect for disposing of all your garden waste. It is supported by three metal feet and has handles on the bin for easy transport as well as a handle on the lid.
The lid also has a centre flue that allows for maximum airflow and intense heat. Combined with the number of holes on the sides of the bin, the excellent ventilation of this design results in faster combustion.
One complaint is regarding the silver coating the manufacturer coats the bin with. After continued use the intense heat causes the coating to come off.  But as this does not affect the overall performance of this incinerator it shouldn't stop you from considering this well-made product.
PROS:
Easy assembly
Sturdy construction
Excellent heat production
Larger-sized incinerator
CONS:
Does not come with additional tray to put underneath
This is an excellent choice for anyone who is looking for a reliable incinerator that generates exceptional heat.
3
Metal Galvanised Garden Incinerator Fire Bin by EasyShopping
Constructed of high-quality galvanized steel this is a good choice for disposal of all your garden wastes. With three sizes to choose from, you can find the incinerator that is perfect for your day to day cleaning.
The incinerator can be purchased with a poker and shovel if you choose. These are well crafted, but neither is a great length, so they can be difficult to use to stir larger incinerators. There is also no tray to catch ashes underneath, which can be a desirable feature.
All of the sizes available come with a chimney lid, a sturdy three-legged base, and side handles. All are designed for easy ash removal and storage.
PROS:
Sturdy, transportable design
Three different sizes
Good airflow allows for even heating
CONS:
No tray underneath
Poker and shovel could be longer
Regardless of the size you choose, these garden incinerator bins are designed to be durable while generating high, even heat.
4
Denny International Fire Incinerator 90L 
This product is well constructed using galvanized steel. It has solid zinc-plated handles for easy transport and storage. It is a good option if you are burning general garden waste.
The metal lid incorporates a chimney. This, along with added holes in the sides for airflow, allows for excellent heat to be generated within, resulting in fast burn times. The lid is equipped with a handle for easier placement.
With galvanized-steel construction, this bin is built to be durable. It is assembled with three feet on the bottom for stability, as well as to allow for ventilation of the bottom airflow holes. The footings also keep the incinerator off your grass.
One drawback is that the feet are not as sturdy as the rest of the barrel, they can bend with the weight over time.
PROS:
Large capacity
Galvanized-steel construction
Good airflow and fast-burning times
UK made
5
Keto Plastics 210 Litre Large Garden Incinerator

This incinerator is an excellent choice for those of you who have large properties and large families. With a 210 litre capacity, it has plenty of space for all your garden rubbish and debris. It has a strong steel construction and a lid for safety.
It is the largest incinerator bin available. Its massive size allows you to burn through debris much faster than you would with a smaller model. One of the drawbacks in the design is the absence of any footings or base to keep it off the ground. This problem can be solved by resting the unit on large cinderblocks to avoid destroying the grass in your garden.
The construction of the unit is impressive as well, being made from strong, hefty steel. Its design is far more solid than most incinerators and can withstand heavy use. The drawback is that the size and weight of the bin may make it difficult to clean.
If you're looking for an incinerator that is well built and able to withstand heavy usage, the Keto Plastic  210-litre Large Garden Incinerator is an excellent choice.
PROS:
Larger kiln allows for more material to be incinerated
Durable steel construction
Reasonably priced
CONS:
Larger size makes cleaning difficult
No footings to keep it off the ground
Conclusion
Garden incinerators are a safe and clean alternative to having a garden bonfire to dispose of your debris. They are an efficient way to destroy organic waste without upsetting your neighbors or leaving a great burn spot in your garden.
As you see from the incinerators reviewed, there are several of options at reasonable prices that you can choose from. Think about what your needs are and weigh out the pros and cons of each before you buy; this will prevent you from getting the wrong size, or a style that doesn't have the features you like.
Garden incinerators are designed for safety and convenience. They are one of the easiest, most efficient means of disposing of your garden waste. They are also one of the most considerate ways to burn your debris without disturbing your neighbors.
By regularly keeping your incinerator clean and stored in a dry space, you will have a practical investment that will serve you well for years to come.
Last update was on: September 24, 2020 10:00 am